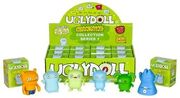 Uglydoll Action Figures- All new, All Ugly!
Normal Figure Series
Edit
Wage, Babo, Jeero, Ice-Bat, Wedgehead, OX,Uglydog, Big Toe, Poe, Trunko, Uglyworm, Peaco, Babo's Bird, Kaiju Ice-Bat, Ket, Nandy Bear, Ninja Batty Shogun and Pointy Max in Classic & "Littleuglys" colors! All new, all Ugly. Each towers 3 inches tall and has an action twist waist line!
12 figures - sold separately.
Start Collecting!
You don't know what figure you'll get in series 1, but you can see what you get in series 2 and 3!
Glow in the Dark Icebat
Edit
Also check out the complete Set of Special Glow Series, in Display Box!
Ice-Bat lives in an ice box. Everything he touches turns to ice. Yet he warms your heart? Something like that, but one this is for sure....he can glow in the dark!
GLOW IN THE DARK ICE BAT ACTION FIGURES
Collect some! Six different colors; clear, purple, yellow, green, orange and blue. Perfectly blind boxed to keep you guessing. Buy the case and get the entire set of 6! No repeats! No chase! No worries...Just pure Ice Bat!
This set includes 6 Figures each in its own unit box and specially packed in a super ugly display case.
Be@rbrick
Edit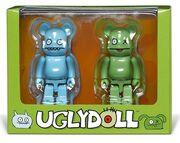 These Bearbricks are direct from Japan!
The adventure begins! Help Ice-Bat and Ox or Trunko and Babo get back home! First they need to scale the walls of your old computer...OK well then after all that hard work, It's time to break for snacks!..the rest is up to you.
Limited Release of these exclusive Be@rbricks by Medicom of Japan.