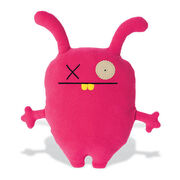 Ugly Charlie and his little brother Jrizzy are always putting on a show. Ugly Charlie likes to take center stage anytime he can. Especially if someone is watching. If you really want to get on his good side, clap when you think his routine has come to an end. Uh but most of his routines are never ending, so maybe bring some popcorn or something. This could take a while. Good luck.
We've never seen Jrizzy, maybe it's supposed to be Jrumpy?
Ad blocker interference detected!
Wikia is a free-to-use site that makes money from advertising. We have a modified experience for viewers using ad blockers

Wikia is not accessible if you've made further modifications. Remove the custom ad blocker rule(s) and the page will load as expected.