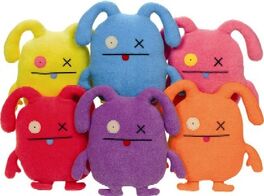 This is a very special UGLYVERSE EDITION UGLYDOLL. These limited
versions of your favorite UGLYS are produced for one year. After that,
they're all gone. But no Worries, next year's UGLYVERSE EDITION isn't
far behind. So which color did you find? There are 6 to choose from. Which
one is right for you? This year, it's UGLYVERSE EDITION OX! Take him with
you....or he may take you with him!
Ad blocker interference detected!
Wikia is a free-to-use site that makes money from advertising. We have a modified experience for viewers using ad blockers

Wikia is not accessible if you've made further modifications. Remove the custom ad blocker rule(s) and the page will load as expected.