Hi. Bye. Hib Eyebye's gotta go. If you have something to say, better spit it out sonny, because she's got things to do, places to go, and newspapers to fold into little boats, to be sent down the river, each carrying her messages of willpower and awesome determination. Wanna tag along? Or do you want to march side by side?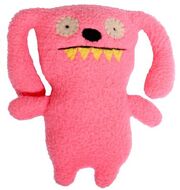 Ad blocker interference detected!
Wikia is a free-to-use site that makes money from advertising. We have a modified experience for viewers using ad blockers

Wikia is not accessible if you've made further modifications. Remove the custom ad blocker rule(s) and the page will load as expected.