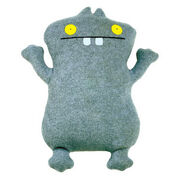 Babo will protect you. Having a bad day? Someone giving you a hard time? Babo's got your back. What Babo lacks in mind power, he makes up for in love. He's everybody's best friend. He will stick with you to the end and when something scary happens, he will send you a nice greeting card from wherever it is he runs away to. A very curious, mischievous creature, Babo may need some guidance and parenting, so make sure to bring him with you to as many places as possible. Leaving him at home is fine, but please put all cookies and money on the highest shelf.
Babo was the second of the Uglydolls mass produced today. He has yellow eyes instead of the usual white. These are the known Babo's not handmade or prototypes:
Classic sized:

Generation 1: Orange Hang Tag with no name on sewn tag
Generation 2: Orange hang tag with name on sewn tag
Generation 3: Green hang tag with name on sewn tag
Several variations on the spacing or sizing of the teeth and eyes.
Secret Mission Babo (Black Babo)
Ice Lodge Babo (White Babo, black eyes)

Sailor Babo (Classic Babo with a sailor hat)

Seasick Sailor Babo (Green Babo with sailor hat)
Little Uglys:
SDCC classic Babo (same color scheme as original Babo
Purple Babo (Babo with a purple color)
Sailor Babo (classic color scheme Babo with a sailor hat)
Blueish Babo ( Light blue Babo)   
Little Secret Mission Babo (little Black Babo)
Little Ice Lodge Babo (little White Babo with black eyes)
2 Foot Ugly:
Classic Babo
Keychain Ugly
Classic Babo
6 Foot Ugly
Classic Babo
Ad blocker interference detected!
Wikia is a free-to-use site that makes money from advertising. We have a modified experience for viewers using ad blockers

Wikia is not accessible if you've made further modifications. Remove the custom ad blocker rule(s) and the page will load as expected.