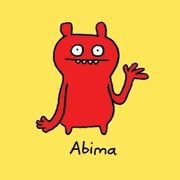 Abima is out of control, he's got his hand in the cookie jar and his mind on the next adventure which is probably going to involve bouncing off the wall and knocking over expensive stuff. He only knocks over expensive stuff. But not to worry though - Abima is very protective and will always look out for you. Are you scared of the Dark? So is Abima! Abima loves to visit his favorite cousin Wage. They look like they may be related; maybe he's your cousin too.
Ad blocker interference detected!
Wikia is a free-to-use site that makes money from advertising. We have a modified experience for viewers using ad blockers

Wikia is not accessible if you've made further modifications. Remove the custom ad blocker rule(s) and the page will load as expected.